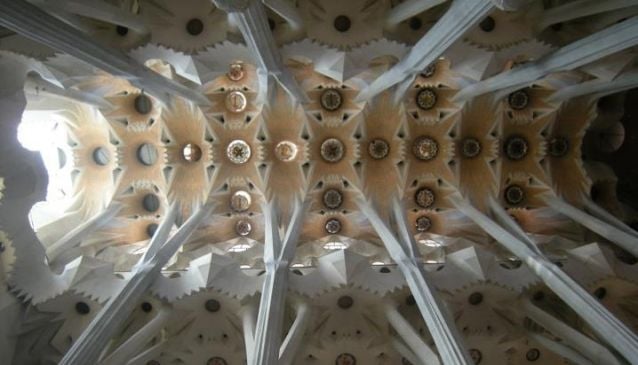 Churches in Barcelona
Arts & Culture
Many of Barcelona's architectural wonders are medieval churches.
When travelling throughout Europe, you are likely to find an abundance of ancient, historic and breathtaking architecture. Because of its rich Roman Catholic roots – more than 70 percent of Spain's current population identifies as Catholic – many of Barcelona's architectural wonders are
medieval churches
, nine of which have been anointed as basilicas.
Despite individual religious beliefs, these majestic houses of worship draw millions of visitors each year. Most of the basilicas and
churches in Barcelona
celebrate mass daily, and many of the major destinations offer guided tours.
Barcelona Cathedral
Located in the
old city district
it is formally named the Cathedral of the Holy Cross and Saint Eulàlia, but known throughout the modern world as
Barcelona Cathedral
or "La Seu". This basilica dates back to 1298, was completed in the 15th century and is constructed of Gothic, Baroque and Romanesque architecture. Today, it is known as the city's spiritual center and is dedicated to Eulàlia of Barcelona, the co-patron saint of Barcelona whose body is entombed in the cathedral's crypt.
The organ is one of the most fascinating structures within the cathedral, built between 1537 and 1539, with restoration from 1985 to 1994. The cathedral became the venue for popular organ performances in 1990 in addition to hosting mass daily. Visitors can enter the chapel for free, but guided tours of the adjacent museum cost around €2 and can be arranged through the Diocesan Museum of Barcelona Tuesdays through Sundays from 11 a.m. to 3 p.m.
Insider Tip: Take an elevator ride to the cathedral's rooftop for unforgettable photo opportunities.
La Sagrada Família
La Sagrada Família
, also known as the Basilica and Expiatory Church of the Holy Family, is located in the
City Centre district
and is Barcelona's No. 1 tourist attraction.
La Sagrada Família
was designed by
Antoni Gaudí
, an outstanding figure in Catalan and international architecture. The first stone was laid in 1882 but it is still incomplete today.
The basilica's intended completion date is 2026 to commemorate the 100th anniversary of Gaudi's death. Once finished, it will have 18 towers, 12 dedicated to the apostles, four to the evangelists, one to Jesus and one to Mary. A visit to the Basilica will cost €13.5 and €17 if you plan to tour the Gaudí museum. Hours vary based on season, and like most
churches in Barcelona
, mass is celebrated daily with separate Catalan and Spanish services.
Insider Tip: Spend an extra €4.50 and take the lift to the towers, which are not connected to the main façades but provide breathtaking views.
Basilica of the Merciful Mother of God
This basilica is popular among locals because it is the home of the
Verge de la Mercè
(patron saint of Barcelona). Its original Gothic structure was enlarged during the 14th and 15th centuries and was redesigned in the 1700s. The structure includes one nave with chapels on each side, a dome over the crossing and curved scrolls on the façade. Catalan mass is celebrated twice daily Monday through Saturday and at noon on Sundays. Mass is held in Spanish at 11 a.m. and 1 p.m. on Sundays.
Insider Tip: Because no guided tours are available, this basilica is perfect for those who want to attend an authentic Catalan or Spanish mass like the locals.
Basilica of St. Mary of the Sea
The
Santa Maria del Mar
, or the Basilica of St. Mary of the Sea, was built in the 14th century and is the only surviving church built in pure Catalan Gothic style. It is said that Santa Eulàlia was originally buried here before her body was moved to
Barcelona Cathedral
.
The basilica is adorned with rows of stained-glass windows and columns set 13 meters apart. Look down at the floor and you can see private tombs of Barcelona's medieval guilds and brotherhoods. The church is open Monday through Saturday from 9 a.m. to 1 p.m. and 4:30 to 8 p.m. On Sundays and holidays it is open from 10:30 a.m. to 1:30 p.m. and 4:30 p.m. to 8 p.m.
Insider Tip
: This church is located in the
El Born district
between the Plaça Santa Maria and the lively Passeig del Born, offering an array of nearby cultural,
dining
and boutique
shopping
options.
Other Basilicas Worth Seeing and Europe's Oldest Synagogue
Barcelona is home to nine basilicas and countless other churches. Other basilicas include Basilica of SS Just and Pastor, Basilica of
St. Mary of the Pine
, Basilica of St. Joseph Oriol, Basilica of the Purest Conception and
Sagrat Cor
, one of the city's most modern Catholic churches. All of these destinations display ornate architectural wonders that are worth seeing, even if you aren't Catholic.
Meanwhile, nestled among the tiny streets that make up Barcelona's Jewish Quarter within the
old district
, is
The Main Synagogue of Barcelona
, also known as Ancient Synagogue, or Sinagoga Major of Barcelona. It is the believed to be the oldest synagogue in Europe, dating back the 2nd century. During the massacre of Barcelona's Jewish population in the 15th century, most remaining Jews fled Spain and the synagogue ceased to be used as a place of worship. At the time of its discovery in the late 20th century, Ancient Synagogue was home to a dry cleaner and storage unit. Today, visitors can go underground and see recreations of how the synagogue might have looked. The ruins are protected by a glass surface in which visitors can walk above them. The main façade faces southeast toward Jerusalem and features a wrought iron menorah and a scroll that contains scriptures from the Torah.
This travel article was provided by Marriott International, which operates more than 3,700 hotels and resorts representing 18 brands in 70 countries.