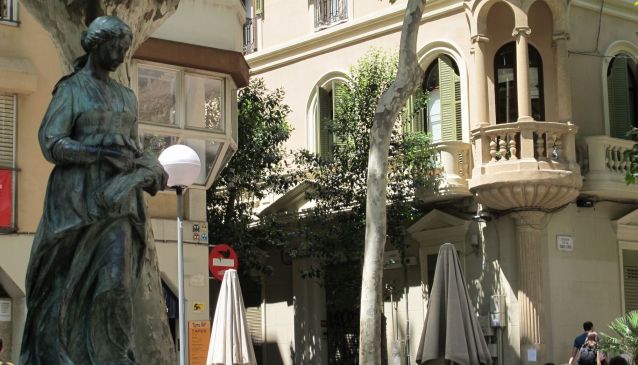 Gràcia, Barcelona's Best Kept Secret
Arts & Culture
Gràcia is one of the most bohemian and quirky parts of the city.
If you really want to escape from the herds of map-reading tourists and discover the "authentic" Barcelona, make your way up the up-market Passeig de Gràcia to one of the most bohemian and quirky parts of the city, the district of Gràcia. It is here that you will find an eclectic mix of locals and other nationalities, hanging out at the cafés in the district's many shady squares.
Start your visit by leisurely strolling up one of the best streets for
shopping
in the district, Gran de Gràcia. As you can imagine, being able to find everything you need on just one street is a big plus in Barcelona, especially on a hot summer's day when your feet are beginning to hurt after so much walking! The large range of clothing, shoe and bag
shops
on this street offer something for all shoppers and at more reasonable prices than in the
city centre
. At the Fontana
metro
station turn right onto the pedestrianised Carrer d'Astúries and narrow adjoining streets and browse the quaint and quirky designer boutiques and musty-smelling second hand bookshops.
The Plaça de la Vila de Gràcia (previously known as Plaça Rius i Taulet) with its imposing thirty meter high clock tower or Plaça de la Virreina, presided by its church, are great for a lazy afternoon stop at one of their bar terraces. Take time out to sit on a bench and buy an ice-cream or "horchata" (a deliciously refreshing milky-looking drink made from tiger nuts), listening to the locals chatter in Catalan. As a special treat stop at one of the bakeries in the area specializing in Arab patisserie for a tray of deliciously rich honey and nut-laden Arab cakes which can be wrapped up to take back to your hotel or holiday accommodation.
If you're looking for a bit of
culture
, Gràcia is lucky to house one of
Gaudi's
first architectural commissions. Tucked down the narrow Carrer de les Carolines, the little-known
Casa Vicens
(a private residence closed to the public), with its green and white flowered tiling on the outside walls, is a totally different style to Gaudi's other works.
As the sun goes down take the opportunity to catch a film at the Cine Verdi, famed for its off-the beat films often shown in their original language. Afterwards, with dinner in mind, stroll down Carrer Verdi or Torrent de l'Olla and take your pick from the amazing range of international restaurants…. Catalan, Syrian, Moroccan, Lebanese, French, Greek, Italian……a real culinary trip around the world!
Extend your visit into the evening with a visit to Plaça del Sol. Although not as picturesque and quaint as other squares, it has a vibrant nightlife and bustling café terraces. However, if you are really looking for a party atmosphere a visit to the district in August during the Festes de Gràcia is a must do. You'll be amazed to discover the streets decorated, often using recycled materials, and converted into brightly adorned tunnels. It's during these "fiestas" that the real neighbourly feeling of the district can be seen as the locals gather to eat, drink and dance in the streets and the bonus is that you can even join in.
Off the beaten tourist track, no-frills
Gràcia
has so much to offer and provides a real insight into how Barcelona used to be.